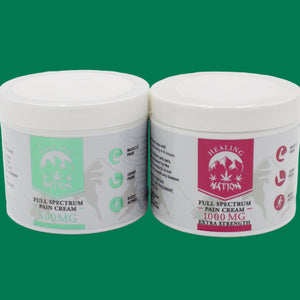 Healing Nation CBD Pain Cream Tub
Healing Nation's Full Spectrum CBD Cream is a topical that provides temporary relief from sore muscles, minor joint aches and pains common with strains and arthritis, backaches, and sprains.
Comes in two strength options: 500mg | 1000mg
Directions for use: Apply small amount to the affected area with gentle, circular motion, until dry. Use every 4-6 hours. 
These products and statements have not been evaluated by the FDA and are not intended to diagnose, treat, or cure any disease.