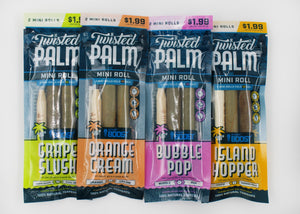 Twisted Palm Mini 2pk
Twisted Wraps has always been one of the top-selling brands on the market & always brings the highest quality products to the market. The new Twisted Palm is made from all Natural & Tobacco Free Palm Leaf Rolls with 100% Natural Terpene flavoring. Squeeze & Pop Corn Husk Filter with the tastiest flavor combos you will come across! 
Slow-burning & very tasty! Two flavors options per tip, squeeze one for one flavor, the second for another, or combine the two for a tasty mixed flavor!