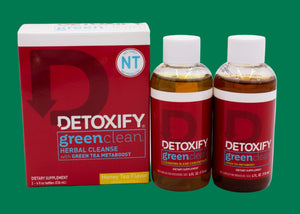 Detoxify Green Clean
Green Clean is the Green Tea herbal detox cleanse drink for high toxicity lifestyles. Concentrates shooters, so you'll drink less liquid while supporting full-body cleansing. Enhanced with Metaboost Concentrate to provide the metabolic boost for rapid, same-day cleansing. Features Burdock Root Extract and Green Tea Leaf.
How to use:
Shake Green Tea Cleansing Blend Concentrate well and drink entire contents of the bottle.
Immediately after, shake Green Tea Metaboost Concentrate well and drink the entire contents of the bottle.
Wait 15 minutes. Drink 32 oz. of water.
Pro tip: Drinking 16 oz. of water every two hours can extend your benefits throughout the day.

Frequent urination (three to four times) indicates that you are experiencing optimal cleansing.