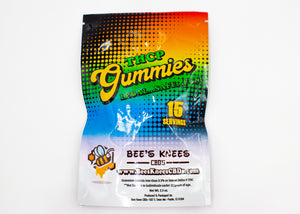 Bee's Knee's CBD/THCP Gummies
15mg THCP per Bag & 150mg CBD
Bees Knees CBD's THCP gummies are a natural blend of  hemp extract that includes cannabinoids, terpenes, and other natural ingredients.  Contains a full 10mg of CBD and 1mg of THCP per gummy. Handcrafted, grown, and produced using the highest quality home-grown hemp flower. Organic, vegan, non-GMO ingredients. Absolutely no artificial flavors or colors. 
Serving: 10mg CBD (cannabidiol)/1mg THCP per gummy
Quantity: 15 Gummies per package (150mg CBD / 15mg THCP Total)
Ingredients: Organic Tapioca syrup, organic cane sugar, purified water, seaweed extract, citric acid, Tri sodium citrate, natural colors & flavors, full spectrum organic hemp CBD oil.
Why Bee's Knees CBDS THCP Gummies? Legal THCP gummies contain broad-spectrum CBD, which provides the synergy of all the active compounds working together, with less than 0.3% THC. Bee's Knee's only use their own hemp organically grown in vetted, organic farms across the United States, including Colorado, Oklahoma and New York. This means you always get the purest CBD with high levels of terpenes, essential fatty acids and amino acids, and vitamins without any harmful chemicals.
Directions: Follow the directions on the product label. We suggest ingesting a single serving (1 gummy), then wait 2 hours for the full effect. Adjust to comfort level thereafter. Do not consume more than one gummy within 24 hours. It can take up to 60-120 minutes to take effect, so be patient and enjoy.
Warning:
*Keep out of reach of children under 18.
*Women should not use THCP products during pregnancy or while breastfeeding
*Do not drive or operate any machinery while using this product.
*this product has been tested for contaminants.
These products and statements have not been evaluated by the FDA and are not intended to diagnose, treat, or cure any disease.