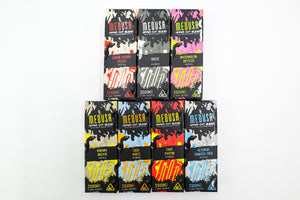 Modus Upper Cut Blend 2000mg Cartridge (IN-STORE ONLY)
A powerful mix of THC-H, Delta 8 Live Resin and THC-JD make our Upper Cut devices are the perfect choice if you want something more powerful than the typical Delta 8 devices.

Building on the roaring success of our Knockout Blend, MD8 Upper Cut devices are designed to hit you with the most satisfying high—leaving you in a state of bliss and calm. Every Upper Cut device is crafted with attention to detail, ensuring they deliver consistently flavorful and super potent hits.
Strain Descriptions:
Alaskan Thunder Fuck: This Sativa strain is known by different names, including Matanuska Thunder Fuck. It has a strong, complex flavor with notes of cedar, pine, lemon, menthol, and skunk. There's also a bit of nuttiness and earthiness to it.
Banana Breath: This indica strain is known for its sweet, fruity aroma with dominant citrus notes.
Lemon Cherry Gelato: This exotic Sativa strain has a distinct citrusy flavor with earthy, piney, fruity, and berry notes.
G.P. II: This Hybrid strain is named after the popular American basketball star. It is known for its earthy, berry, nutty, musky, and piney aroma. It smells a bit sweet.
Gush Mintz: This hybrid strain has a peculiar minty flavor. It also has diesel, cherry, nutty, and piney notes.
Oreoz: This hybrid strain does justice to its name. It has a mouthwatering aroma with hints of chocolate, nuts, and diesel flavor.
Watermelon Zkittles: This indica strain has a bold tropical flavor. You'll get hints of sweet-sour citrus and watermelon flavor.
COA is HERE.